Name: Perry Tan
Tel: 0086-731-84077805
Fax: 0086-731-84072772
E-mail: csdrillingtools@vip.126.com
E-mail: info@csdrillingtools.com
Add: 5# Panpan road, economic development zone, Changsha, Hunan, China. Zip 410100
Skype: csdrillingtools
QQ: 2522716948





Product name : CYDX-5 Crawler Hydraulic Drilling Rig

Item : 2013111515557
Details:
CYDX-5 Crawler Hydraulic Drilling Rig


CYDX-5 Crawler Hydraulic Power Head-type Core Drill Rig is a large-power fully-hydraulic driving deep-hole core drill rig newly developed in out plant. It is applicable to various efficient drilling technologies such as diamond bit wire-line coring technology. It is characterized by convenient and concentrated operation, accurate control and convenient handling or removal. The parameters such as power output, rotary speed, drilling pressure, pump pressure, etc., can be directly read via the parameter meters mounted on the drill, which is convenient to observe the drilling condition and data record and raise the drilling efficiency and coring rate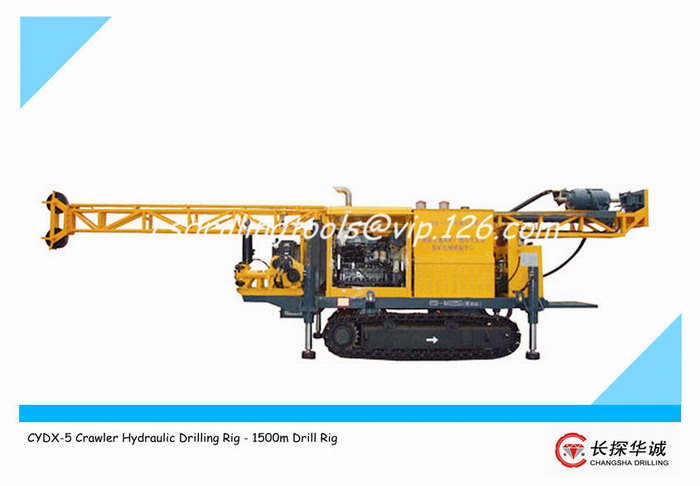 1): it adopts the fully-hydraulic drive and it is characterized by stable drive lower noise, centralized & convenient operation, labor saving, safety and reliability
2): its power head gearbox has two gears for manual shifting operation and it is driven by the variable displacement hydraulic motor. The output speed of power head can be steplessly adjusted among 0 ~ 1200r/m, with an extensive speed range and a torque output of two gears. It is applicable to meeting the needs of multiple drilling technologies and different drilling hole diameters on the speed and torque, especially to the diamond bit core drilling technology.
3): the drill is equipped with the hydraulic chuck and hydraulic clampers which can rapidly and reliably clamp the drill pipe, with good alignment. It can be used to clamp or hold the wire-line coring drill pipes of various specifications such as, 55mm, 71mm, 89mm, etc., with bigger path diameter and convenient operation
4): derrick can be available to the sliding construction, and when drilling inclined hole it can be lowered to contact the ground, with convenient operation, good stability and safety and reliability.
5): its feeding travel of 3.5m enable it to directly lift or increase/decrease a single drill pipe, which can efficiently reduce the time of auxiliary operation and raise the efficiency of drilling operation
6): The drilling rigs is equipped with the mast-sype derrick and stepless speed-regulating winch, whichcan lift or lower the drilling tools for 9m in a time, safe and labor-saving
7): it is equipped with the stepless speed-regulating wireline coring hydraulic drive winch, with a broader speed-changing scope, labor-saving and convenient operations
8): it is characterized by compact structure, reasonable layout, hydraulic lifting and lowering of outriggers and simple installation
9): Cummins diesel engine is used to power the drill rig and it is equipped with the crawler chassis, rapid and convenient for the site transfer
10): its hydraulic pumps, main valves and hydraulic motors all adopt the imported products of international brand, with a higher precision of components and stable and reliable operation.
Main Specifications

Total height

2650 mm

Total length

10000 mm

Total width

2250 mm

Height of crawler

600 mm

Width of crawler shoe

400 mm

Max. driving speed

2 km/h

Max. climbing gradient

30°

Total mass

9000 kg

Drilling Capacity

Drilling depth for BQ drilling rods

1500 m

Drilling depth for NQ drilling rods

1200 m

Drilling depth for HQ drilling rods

900 m

Drilling depth for PQ drilling rods

600 m

Power system

Model

Cummins6BTA5.9 – C180 Diesel Engine

Displacement

5.9 L

Number of cylinders

Cylinders, in-line

Type

Turbine Charged

Cooling way

Water cooling

Power

132 KW at 2200 r/min

Hydraulic System

Rated pressure

28 MPa

Subsidiary rated pressure

20 MPa

Donkey pump rated pressure

18 MPa

Cooling way

Wind cooling

Power head

Driving way

Hydraulic driving

Max. via-hole diameter

117 mm

Gearbox

2 gears of manual control

Speed down

8.77 : 1 (2.19 : 1)

Rotary speed

0 ~ 300 (525 ~ 1200)

Torque

4040 (1050)

Main winch

Lifting capacity

1250 kg (single layer of wire)

Lifting speed

90 m/min (single layer of wire)

Wire rope

6 mm

Rope laying capacity

1500 m

Drill derrick

It consists of the upper derrick and lower derrick (the middle can be folded for convenience of transportation), and the derrick can be supported on the ground via the longitudinal sliding

Total length of derrick

9.6 m

Drilling angle

45°~ 90°

Feeding speed

High and low speed with speed control handle

Feeding travel

3500 mm

Feeding force

50.2 KN

Pull-out force

152 KN

Longitudinal sliding distance

1000 mm

Power head chuck

Opening/closing way

Hydraulic clamping and loosening

Max. via-hole diameter

117 mm

Wellhead Clamper

Opening/closing way

Normally closed hydraulic clamped by spring and loosened by hydraulic cylinder

Traveling System

Traveling speed

2 km/h

Climbing gradient

30°

Carrying capacity

10 T

Mud pumps

Model

BW250/10

Max. displacement

250 L/min

Max. pressure

10 MPa

Dimension in traveling

6500 * 2250 * 2650 mm