Name: Perry Tan
Tel: 0086-731-84077805
Fax: 0086-731-84072772
E-mail: csdrillingtools@vip.126.com
E-mail: info@csdrillingtools.com
Add: 5# Panpan road, economic development zone, Changsha, Hunan, China. Zip 410100
Skype: csdrillingtools
QQ: 2522716948





Product name : GY-200-1A Drilling Rig

Item : 20131115171951
Details:
GY-200-1A Drilling Rig
GY-200-1A drilling rig is a multiple purposes light drilling rig. GY-200-1T is a model developed on the basis of GY-200-1A, which is integrated with a hydraulic tower system. The rigs are widely used for geological engineering investigation in various projects like industrial and civil construction, railway, bridge, hydropower etc., and also for small diameter pile hole boring and anchor hole drilling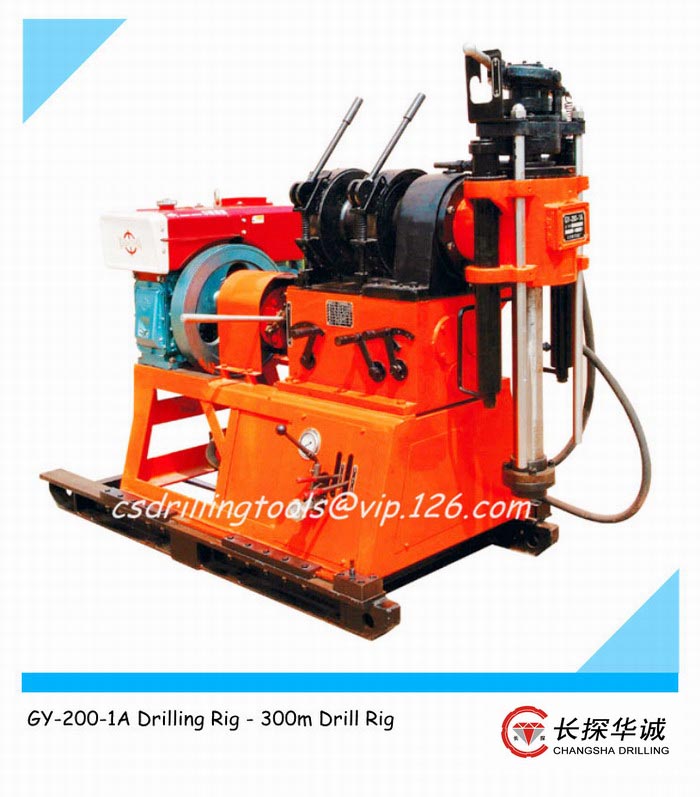 Features:
1): wide range of R.P.M. and well-set gear
2): large torque in low R.P.M., suitable for core drilling and piling hole drilling and piling hole works.
3): mobile cylinder installed so that the drilling machine has a free travel of 400 mm, ensure easy operation of drilling stems
4): easy to handle, high efficiency, oil hydraulic feeding
5): stable and solid drilling tower with fewer single components. Easy for transportation and flexible in drilling angle adjustment (features of hydraulic tower, model GY-200-1T)
6): optimized structures, small volume and light weight
Technical Figures:
Basic Parameter

Drilling depth (@drilling diameter)

295m(@46mm), 225m(@76mm), 60m(@300mm)

Drill pipe diameter

50, 42 mm

Spindle turnable angle

0°~ 360°

Weight without engine

670 kg

Dimension (length * width * height)

1820 * 980 * 1400 mm

Rotary Table

Rotate speed

900, 475, 388, 205, 157, 68 r/min

Maximum torque

2000 N*m

Feeding travel

400 mm

Maximum cylinder feeding force

29 KN

Maximum cylinder lifting force

39 KN

Lifter

Lifting capacity

30 KN

Bobbin line speed, 2nd layer

0.27, 0.64, 0.83, 1.58, 1.64 m/s

Bobbin diameter

135 mm

Rope diameter

12.5 mm

Rope capacity

30 m

Oil pump

Type

CBF-F420-ALPL Gear Oil Pump

Displacement

20 Ml/R

Rated speed

2500 r/min

Rated pressure

20 MPa

Maximum pressure

25 MPa

Power

Rated power

14 KW (Y160-4 electric), 14.7 KW (ZS-1110 diesel)

Rated speed

1460 r/min (Y160-4 electric), 2200 r/min (ZS-1110 diesel)

Weight

144 kg (Y160-4 electric), 180 kg (ZS-1110 diesel)

Frame

Type

Sliding type with base frame

Movable travel of drill

400 mm

Distance between drill and hole-opening

270 mm