Name: Perry Tan
Tel: 0086-731-84077805
Fax: 0086-731-84072772
E-mail: csdrillingtools@vip.126.com
E-mail: info@csdrillingtools.com
Add: 5# Panpan road, economic development zone, Changsha, Hunan, China. Zip 410100
Skype: csdrillingtools
QQ: 2522716948





Product name : XY-4L Core Drill Rig

Item : 2016729103149
Details:
XY-4L Core Drill Rig
XY-4L core drilling rig is a new member of the drill rig family designed for engineering geological exploration, small-scale water well drilling and engineering construction for highway, railroad, hydropower, harbor, etc. this exploration drilling rig is vertical shaft type rig that features
Features
1: a wide rotational speed range (12 speeds) is available for this core drill to satisfy demands of diamond coring drill. Rotary percussion drilling, directional drilling, reverse circulation continuous sampling, etc.
2: large output torque, strong drilling capacity and wide applications
3: connecting rod reinforcement spring clamp and hydraulic chuck enjoy novel structure, large clamping force, long service life and reliable performance
4: equipped with automatic transmission, clutch, universal drive shaft and other high quality general parts, this drill rig enjoys long service life, easy movement and replacement
5: hydraulic lifting drill tower allows flexible drilling operation
6: truck chassis with hydraulic stabilizer legs facilitate moving of the hole exploration drilling rig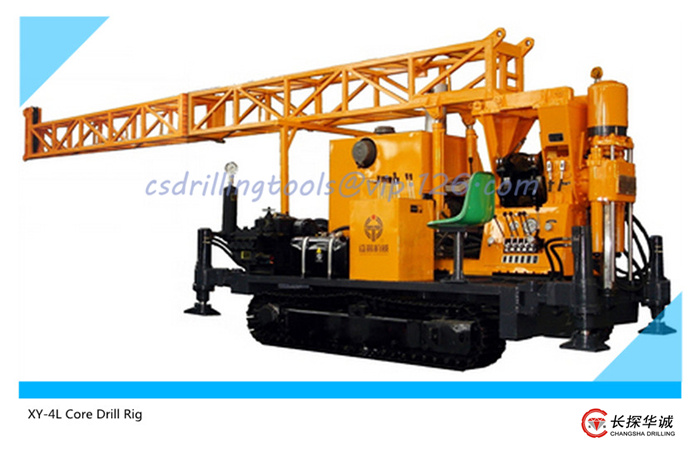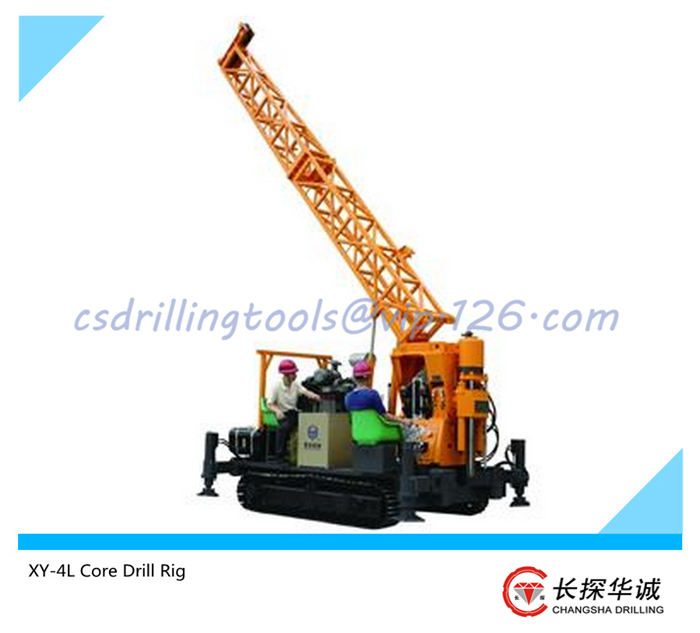 Specification
Engine

Diesel engine

R4105ZD

Power and rotational speed

56KW, 1500 r/min

Drilling capacity

NQ (70mm) drill rod

700m

HQ (89mm) drill rod

400m

42mm drill rod

1000m

Gyrator

Speed (r/min)

FWD: 33; 65; 109; 165; 215; 302; 507; 766; 1002

REV: 36; 167

Max. torque (Nm)

4200

Diameter (mm)

93

Hoist capacity (KN)

60 (rated)

75 (max.)

Pressing force (KN)

45 (rated)

55 (max.)

Feed stroke (mm)

600

Winch

3-layer single rope hoist capacity (KN)

Max. 40

3-layer single rope hoist speed (m/s)

0.72; 1.2; 1.82; 2.38

Drum diameter (mm)

220

Wire rope diameter (mm)

17

Wore rope capacity (m)

55

Hydraulic system

Model

CBTL-E430/E410-AFH

Displacement (ml/min)

30+10

System pressure (Mpa)

8 ~ 10

Oil cylinder stroke (mm)

460

Tower

Height(m)

10.7

Load (KN)

90

Truck chassis

Loading capacity (T)

6

Dimension (L*W) (mm)

2200*1700

Travelling speed (km/h)

2

Angle of climb

≤30°

Wire line coring winch

Bare drum hoist capacity 800kgs

Full drum 300kgs

Full drum hoist speed (m/s)

2.5

Dimension (L*W*H) (mm)

3215*1950*10700