Name: Perry Tan
Tel: 0086-731-84077805
Fax: 0086-731-84072772
E-mail: csdrillingtools@vip.126.com
E-mail: info@csdrillingtools.com
Add: 5# Panpan road, economic development zone, Changsha, Hunan, China. Zip 410100
Skype: csdrillingtools
QQ: 2522716948





Product name : XY-5L Surface Coring Rig

Item : 2016729103933
Details:
Description
XY-5L drill rig is a spindle core drilling rig supplied based on demands of diamond drilling, wire line coring, etc. for engineering geological exploration, small-scale water well drilling and engineering construction for highway, railroad, hydropower, harbor, and so forth. Track chassis is added to this drill rig to facilitate move and operation
Features
1: this spindle core drilling rig and its support equipment, including drill tower, mud pump, coring winch, etc. are mounted on the track chassis to allow moving of the whole machine and high overall efficiency as well as reduce labor intensity
2: a wide rotational speed range is available for this drill rig to satisfy demonds of diamond coring drill, directional drilling, rotary percussion drilling, reverse circulation continuous sampling, etc.
3: hydraulic lifting drill tower allows flexible drilling operation
4: the major part of the drill rig mud pump and coring winch are respectively driven by independent power to facilitate operation and maintenance as well as reduce energy consumption and drilling costs
5: the hydraulic system is equipped with dual oil pumps allowing faster deeding and drilling
6: equipped with automatic transmission, clutch, universal drive shaft and other high quality general parts, this spindle core drilling rig enjoys long service life and easy replacement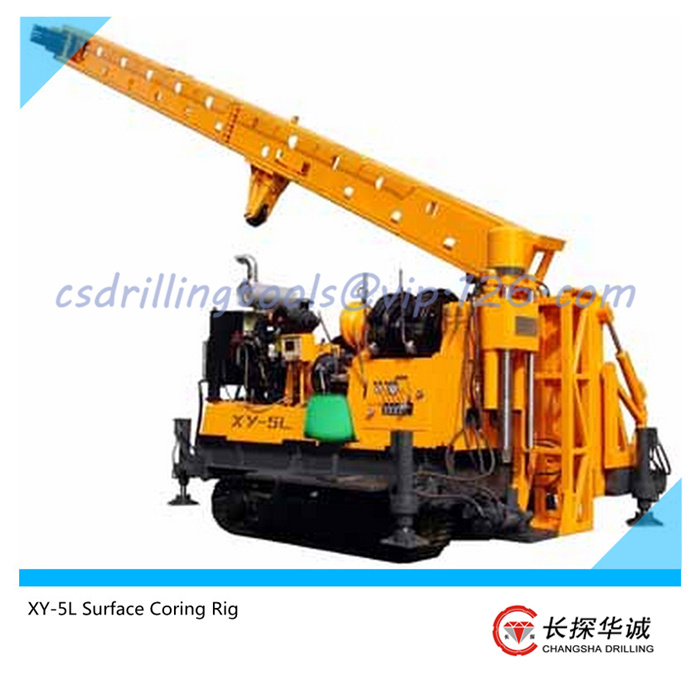 Specifications
Basic

Power machine

Diesel engine

Model

4BTA3.9-C100

Power (KW)

74 (2200 r/min)

Drilling capacity

Drilling depth of BQ drill rod: 1800m

Drilling depth of NQ drill rod: 1400m

Drilling depth of HQ drill rod: 900m

Gyrator

Spindle rotational speed (r/min)

FWD: 47; 76; 123; 152; 190; 246; 270; 360; 400; 613; 869; 1161

REV: 51; 163

Max. torque of vertical spindle (Nm)

6800 (76 r/min)

Vertical spindle diameter (mm)

93

Hoist capacity (KN)

150 (rated)

Pressing capacity (KN)

80 (rated)

Feed stroke (mm)

800

Winch

3-layer single rope hoist capacity (KN)

Max. 60

3-layer single rope hoist speed (m/s)

0.79; 1.27; 1.96; 2.78; 3.71

Winch diameter (mm)

300

Ire rope diameter (mm)

20

Drum capacity (m)

100

Hydraulic system

Model of oil pump

63SCY14-1BF(plunger pump) + SGP1A16RF(gear pump)

Oil pump displacement (ml/min)

63+16

System pressure (Mpa)

12 Mpa, 25Mpa while travelling

Oil cylinder stroke (mm)

500

Drill tower

Height tower (m)

11.7

Load of drill tower (KN)

300

Drill angle

45°~ 90°

Track chassis

Carrying capacity (T)

10

Travelling speed (km/h)

1.5 ~ 2

Max. traction (kgs)

10250

Angle of climb

30°

Wireline winch

Hoist force of bare drum (kgs)

1200, full rope: 400

Linear speed of full drum (m/s)

2

Wire rope capacity for 5.3mm (m)

1500

Dimension (L*W*H) (mm)

4500*3300*11700

Total weight (T)

Approx. 11.5