Name: Perry Tan
Tel: 0086-731-84077805
Fax: 0086-731-84072772
E-mail: csdrillingtools@vip.126.com
E-mail: info@csdrillingtools.com
Add: 5# Panpan road, economic development zone, Changsha, Hunan, China. Zip 410100
Skype: csdrillingtools
QQ: 2522716948





Product name : XY-44HA Surface Core Drill Rig

Item : 2016729111255
Details:
XY-44HA Surface Core Drill Rig
XY-44HA surface core drilling rig is a new member of surface coring equipment family which has been added drill tower and equipped with wire line coring winch on the basis of XY-44H drilling rig. This surface coring equipment allows moving of the whole machine and can meet multiple drilling requirements, especially diamond drilling, it's spindle type drill.
Features:
1: a wide rotational speed range (12 speeds) is available for this surface core drilling rig to satisfy demands of diamond coring drill, rotary percussion drilling, directional drilling, reverse circulation continuous sampling, etc.
2: diesel engine of electromotor is available to satisfy various engine demonds. Mud pumps, drill stems and faucets are easy to assembly
3: anti-torque device has been equipped to deter rotation of the drill's spindle, suitable for directional drilling
4: equipped with automatic transmission, clutch, universal drive shaft and other high quality general parts, this surface coring equipment enjoys long service life, easy movement and replacement
5: connecting rod reinforcement spring clamp and hydraulic chuck enjoy novel structure, large clamping force, long service life and reliable performance
6: excellent monitoring and alarming capacity of parameter, including torque, drilling pressure, speed, etc. helps to prevent and reduce drilling accidents of this surface coring device
7: parts almost identical and interchangeable to facilitate drilling working
8: this surface core drilling rig is designed with hydraulic lifting drill tower for convenient assembly and drilling of oblique hole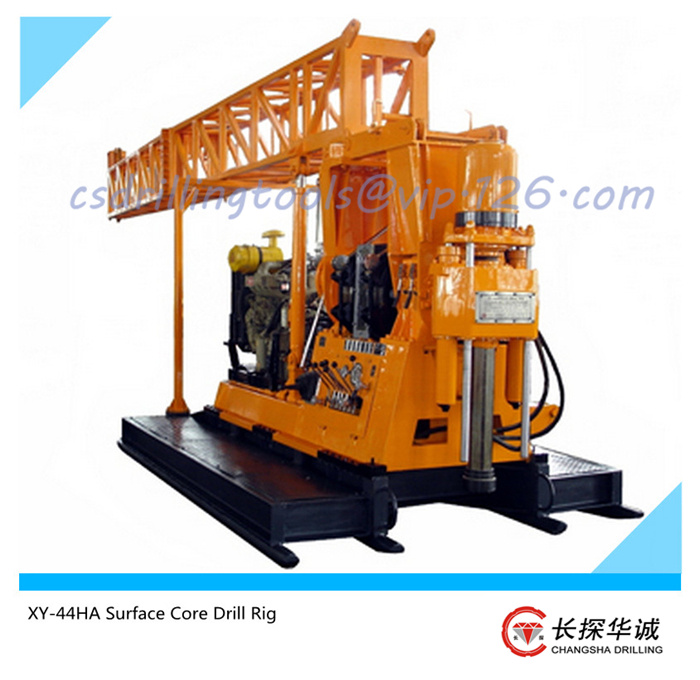 Specification
Engine

Name

Diesel engine

Model

R4105 ZD1

Power (KW)

56

Rotational speed (r/min)

1500

Drilling capacity

50mm drill rod (m)

1200

Spindle

Spindle speed (r/min)

FWD: 39; 66; 109; 134; 180; 222; 257; 316; 371; 610; 871; 1071

REV: 42; 144

Max. torque (Nm)

4600 (66r/min)

Spindle diameter (mm)

93

Drilling angle

90°~ 70°

Hoist capacity (KN)

125 (rated)

Pressure feeding capacity (KN)

85 (rated)

Stroke (mm)

600

Winch

Model

Planetary type

3-layers, single rope hoist force (KN)

50 (max.)

3-layers single rope hoist speed (m/s)

0.645 ~ 3.106

Drum diameter (mm)

295

Wire rope diameter (mm)

18.5

Hydromatic brake

Rotational speed (r/min)

700 ~ 800

Single rope balance speed (m/s)

3 ~ 8

Single rope load (KN)

50

Hydraulic system

Oil pump model

CBTL-E430/E410-AFH

Displacement (ml/min)

30 + 10

System pressure

8

Stroke (mm)

500

Dimension (L*W*H) (mm)

4900 * 2200 * 10000

Weight (kgs)

4500 (including the drill tower)