Name: Perry Tan
Tel: 0086-731-84077805
Fax: 0086-731-84072772
E-mail: csdrillingtools@vip.126.com
E-mail: info@csdrillingtools.com
Add: 5# Panpan road, economic development zone, Changsha, Hunan, China. Zip 410100
Skype: csdrillingtools
QQ: 2522716948





Product name : BW-160-10 Triplex Mud Pump

Item : 2016729111927
Details:
BW-160-10 Triplex Mud Pump
BW-160-10 Triplex Mud Pump is one of the primarily utilized equipment for geological prospecting. During core drilling, this triplex reciprocating pump provides the drilling hole with enough slurry or cleaning water and makes it circulate in the drilling hole to carry the debris up to the earth surface, so as to clean the bottom of the drilling hole as well as cool and lubricate the drilling tools, in this way, the wall of the drilling hole can be protected and the drilling working will be faster. The performance of mud-pump directly affects the efficiency of drilling and safety in production, so users must read the user's guide before utilizing the pump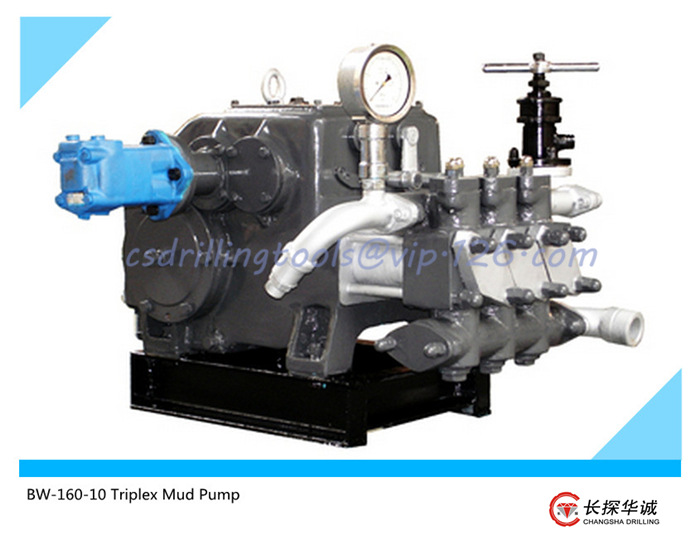 Features
Triplex reciprocating pump with four different levels of displacement and pressure is available to suit for drilling working of different diameters, it is also designed for core drilling, chemical engineering, oil well drainage, soft foundation grouting. Etc.
1: standard, identical and interchangeable parts of pump body, crankshaft, connecting rod, crosshead, pump head, etc
2: long service life and high reliability of high wear parts
3: adopts new concepts in design and use new structure, materials and processes
4: compact in structure, light in weight and attractive in appearance
5: driven by hydraulic motor, electromotor or diesel engine
Model

BW-160/10

Type

Horizontal single acting triplex reciprocating mud pump

Stroke (mm)

70

Cylinder diameter (mm)

70

Pump speed (RPM)

200

132

83

55

Displacement (L/min)

160

107

67

44

Pressure (Mpa)

2.5

4

6.5

10

Volumetric efficiency (%)

95

Overall efficiency (%)

78

Input torque (Nm)

150

Input speed (r/min)

610

Rated power (KW)

11 (motor)

14 (diesel engine)

Suction pipe diameter (mm)

51

Discharge pipe diameter (mm)

32

Dimension (L*W*H) (mm)

1830*800*1030 (motor)

900*750*600 (hydraulic motor)

Weight (Kgs)

490(motor)

325(hydraulic motor)