Polycrystalline (TSP & PCD) Bits
Polycrystalline bits are using synthetic polycrystalline diamond elements as cutting media. Like surface-set diamond bits, polycrystalline bits crowns consist of a tough wear resistant matrix body that as a minimum includes natural diamond gauge protection setting.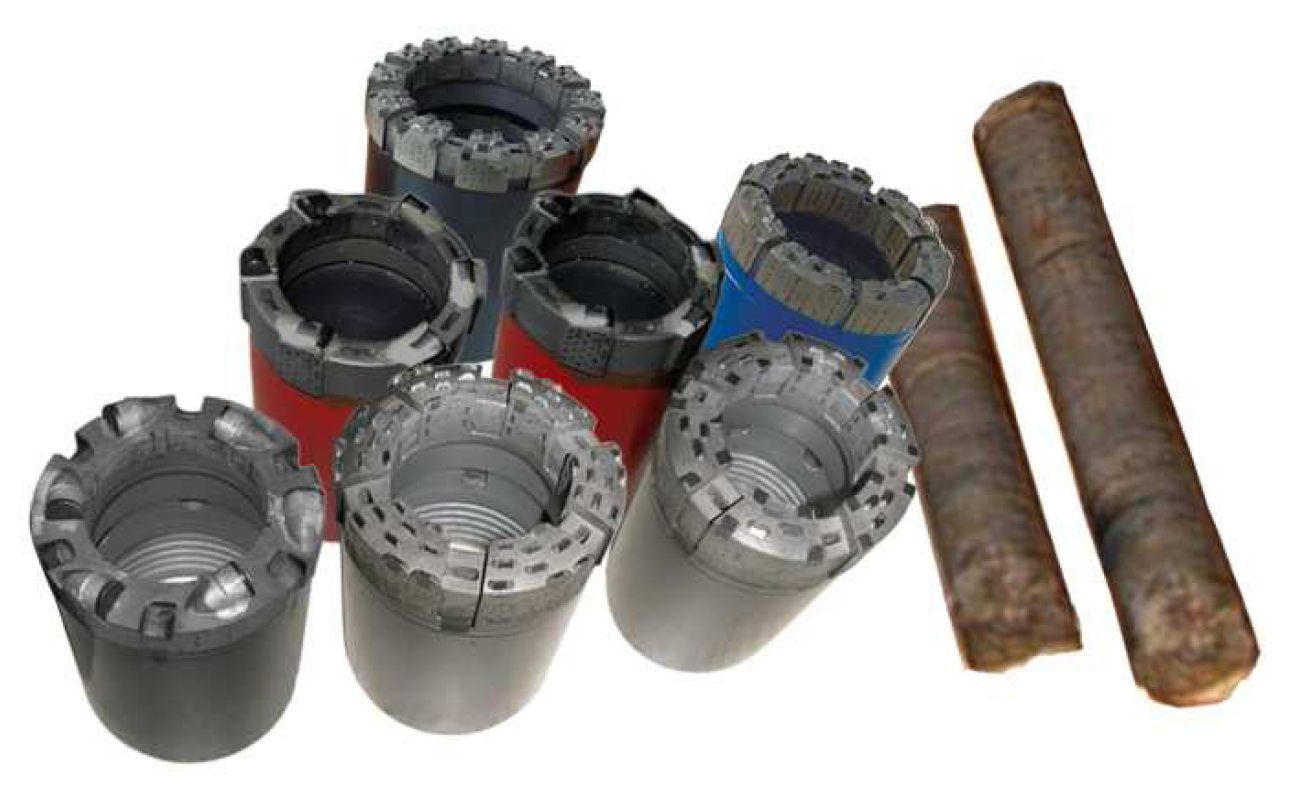 In softer formations, polycrystalline bits are capable of very high rates of penetration when compared to surface-set diamond bits due largely to their high degree of cutter exposure. Polycrystalline bits are divided into TSP (Thermally Stable Polycrystalline) Type and PCD (Polycrystalline Diamond) Type

TSP Type Bits are produced with small triangular and cubic shaped cutters that are composed entirely of micron-sized synthetic diamond particles. They are all semi-round crown profile with either internal discharge type or face-discharge type waterway configurations.



Triangular-TSP Core Bits:

Recommended for use in slightly fractured formations with a Mohs hardness range of 4 to 5. Typical formation types include: Hard Sandstone, Alluvial Deposits, Serpentine and Dolomitic Limestone.

Bit load: 100 to 125 lbs. force (450 to 550 N) per TSP cutter mounted on the bit face.

Rotational speed: 3 to 8 feet per second (0.9 to 2.4 meters per second)




Cubic-TSP Core Bits

Most of these bits are with extra-wide channels on the outside diameter of the bit crown to ease the passage of circulation fluid and cuttings from the bit face.

Recommended for use in unconsolidated formations with a Mohs hardness range of 3 to 4. Typical formation types include: Limestone, Sandstone, Siltstone, Fluorite, Slate, Claystone and Apatite.

Bit load: 100 to 125 lbs. force (450 to 550 N) per TSP cutter mounted on the bit face.

Rotational speed: 3 to 6 feet per second (0.9 to 1.8 meters per second)
PCD Type Bits



PCD Type Bits that use larger cylindrical shaped cutters that consist of a layer of micron-sized synthetic diamond particles that are mounted on a tungsten-carbide substrate. The PDC cutters are available in various sizes and are located to yield maximum penetration rate and long life depending on the application. The'R-PCD' style uses a fully round cutter while the 'T-PCD' and'H-PCD' styles use cylindrical cutters that have been truncated (shown as the pictures) to provide stronger gauge definition. The bits are constructed with a tough, wear-resistant matrix body and gage reinforcement. As a result, worn cutters can be rotated allowing the continued use of the bit.

Standard waterway configuration is face-discharge type.

Ideal for drilling in soft to medium-hard unconsolidated formations with a Mohs hardness range of 2 to 3, which are homogeneous and competent. Typical formation types include: Soft Sandstone, Calcite, Lignite, Frozen Soil, Sandy Limestone, Hard Clay, Shale and Soft Schist.

Bit load: 500 to 600 lbs. force (2,200 to 2,700 N) per PCD cutter mounted on the bit face.

Rotational speed: 2 to 5 feet per second (0.6 to 1.5 meters per second)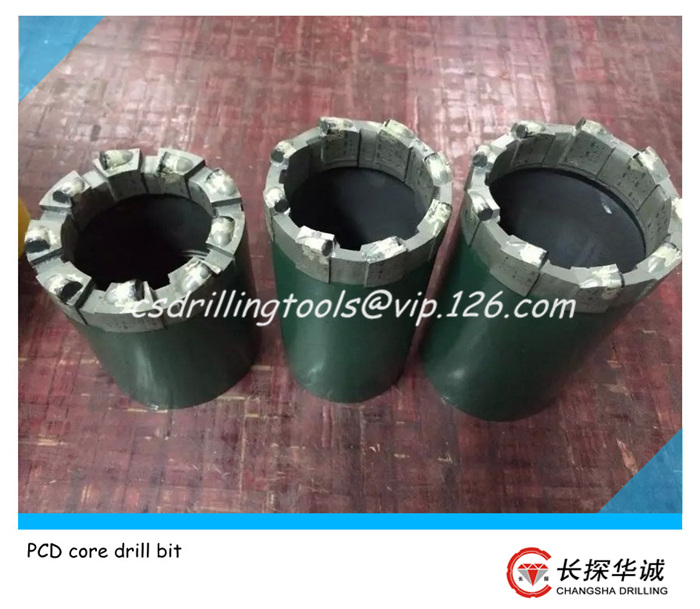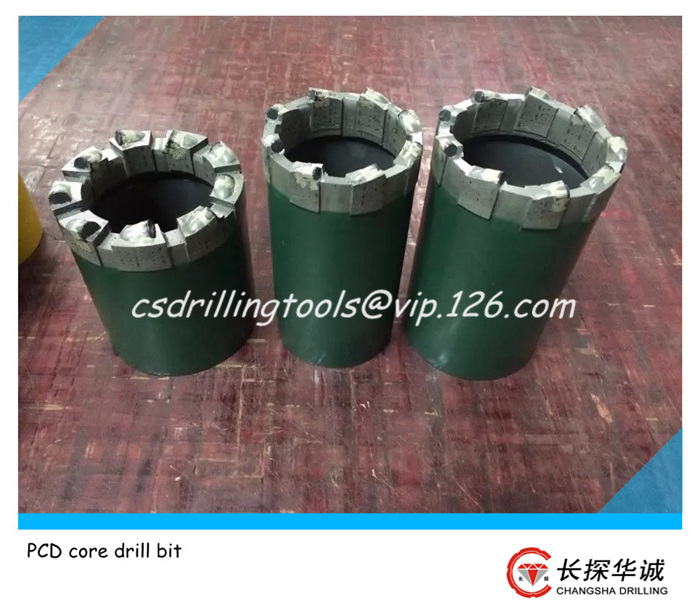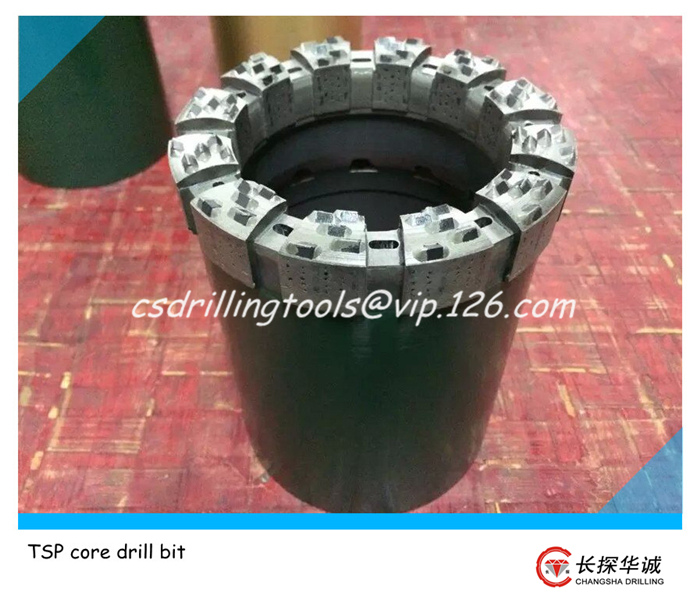 none